Celia Adds to the Family Honour Roll
31 May 2012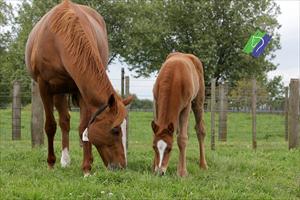 When it comes to bloodstock matters its not often that Celia Crawshaw ignores the advice of her father Garry or younger brother Mark Chittick, but in May last year she did just that.
"We had Prickle (Pins[AUS]-Snobbish) and her weanling in the May sale, and thank God I changed my mind and withdrew Prickle. I would be feeling pretty sick right now if I hadn't," she told the NZTBA this week.
Prickle (pictured left with her 2011 Fast N Famsous foal) is the dam of Brambles (by Savabeel) the recent winner of the group three Grand Prix and the group three Rough Habit Plate in Brisbane, making him second favourite for the upcoming Queensland Derby.
"It's really exciting. He is the first group winner I have bred and it's great for me to have one of my own. I know that Mum Dad and Mark have probably given me a good start but I did make the decision to keep Prickle, as I reminded Dad when we were having a celebratory lunch in Brambles honour."
Celia acknowledges that without Waikato Stud she wouldn't have bred Brambles. Not only is he by their leading sire Savabeel, but Prickle, a daughter of Pins, descends from Lady Aloof (Sir Godfrey[FR]-Miss Coventry) one of the Chittick family's foundation mares.
According to Mark, he purchased Prickle for Celia specifically to send to Savabeel.
"When we syndicated Savabeel, my sisters Celia and Tania got a share which entitles them to two nominations a season. We had sold Prickle as a yearling to Paul O'Sullivan for $75,000 and when she retired from racing we bought her back for Celia," he said.
As a racehorse Prickle won three races and was second in the listed Champagne Stakes at Ellerslie and third in the group three Wakefield Challenge Stakes. She is a sister to Legsman who won five races including the listed ATC Winter Cup. They in turn are out of Snobbish, a sister to the multiple group one winner Slight Chance, herself the dam of Dane Shadow and Salgado, and to Slightly Aloof the grandam of Sharp Princess (Pins[AUS])
Prickle has produced four foals to Savabeel, and is back in foal to him again. She has a filly foal at foot by Fast'n'Famous(AUS). Her first Savabeel foal, Lopov has won five races in Australia, the second was Brambles – a $100,000 purchase for Peter Moody, and the next was a filly purchased by John Frizzell for $7,000.
It was after that disappointing sale that Mark suggested to Celia that she sell the mare and the weanling colt she had at foot by Savabeel. The sale of the weanling went through but fortunately the mare was withdrawn. The weanling sold to Anistay Lodge for $47,500 and they in turn sold it this year at Karaka to Peter Moody for $110,000.
Prickle will be visiting Savabeel again this season, and Celia hopes her other two mares will be consorts of that stallion as well, but does admit that she does leave the matings of her mares up to Mark.
"As much as I love being involved and the mares I have had have been a great investment for me, they have helped send my children to boarding school, and have certainly paid their way. I do let Mark and Garry guide me when it comes to matings.
"I have three mares at the moment, Lightning Spur(AUS) that Mark bought for me, and But Beautiful(IRE) a maiden mare which I recently bought from Paul Moroney. They are both lovely mares and are not from Waikato Stud families," she added.
But Beautiful is a daughter of Pivotal (GB) and Sweet Firebird (IRE), and the winner of three races in the United Kingdom. Her dam Sweet Firebird (Sadler's Wells – Fire The Groom[USA]) is a stakes placed winner of three races and is a full sister to Moscow Ballet and a half sister to Stravinsky (USA). Their dam Fire The Groom (Blushing Groom[FR]-Prospector's Fire [USA]) won eight races in the United States before producing eight winners.
Lightning Spur is by Flying Spur(AUS) out of Cloister, a stakeswinning Marauding (NZ) mare who is the dam of the Australian champion filly Melito. This is also the family of Zeditave and Alannon and the New Zealand champion three-year-old filly Shikoba.
She was also bought specially to go to Savabeel and she has produced two winners, No Emotion and Lolly, which Celia races from Paul Shailer's stable. In 2009 she went to O'Reilly (NZ) for a change and produced a colt which sold at this year's Premier sale for $140,000 to Danny O'Brien, with Celia's husband Philip retaining a quarter share.
"I am having a lot of fun racing Lolly. I really have high hopes for her next season – she seems to have some ability. I enjoy having a horse race even though I get really nervous and I am quite superstitious – it's such a thrill when they win especially if it's a horse you have bred.
"If it wasn't so expensive I would love to have a couple more racing but it's hard to get a good return here in New Zealand the costs are so high compared to the stakes. In the meantime I will just have to follow Brambles and hope that he can win the Derby, that would be really exciting," she added.
If Brambles does win the Queensland Derby it will be the second Derby this season for his sire Savabeel, following Sangster's win in the Victorian equivalent in the spring. Savabeel is currently sitting in second place in the Dewar Stallion Award only $30,000 behind his own sire Zabeel.
Other stakes winners for Savabeel this season include Fromelles, Lady Kipling, Floria, Zara Dancer, and Nandowra. In total he has left 17 stakes winners and over 140 individual winners.
"It's been a fabulous season for the horse. He was a big gamble when we syndicated him at $10million and its great that he has had such good results for his shareholders. It's been tough out there worldwide over the past few years, so it's pleasing to see such good results. I have taken five bookings since the weekend and I am sure it won't be long now before the 'book full' sign goes up," concluded Mark.
Michelle Saba – NZTBA
Recent News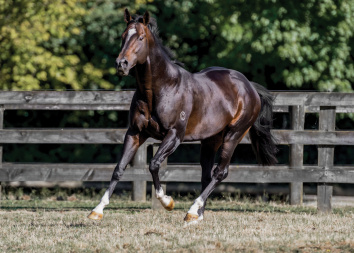 4 June 2023
Tivaci's son impresses at Flemington 
Verifier's timing was immaculate on Saturday when he produced a strong staying performance over 2000 metres to break his maiden at Flemington. The three-year-old son of Tivaci powered home to claim the thick end of …
Read More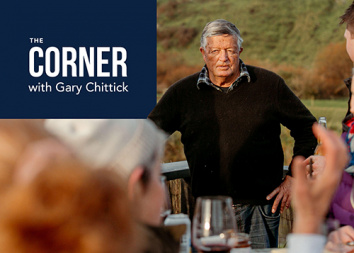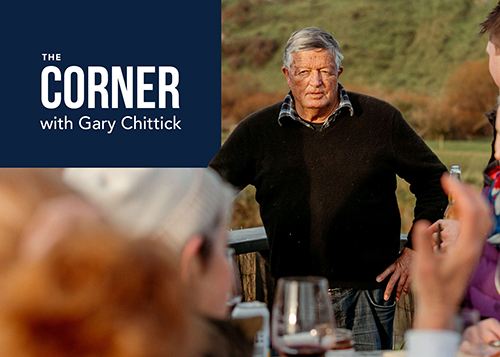 29 May 2023
THE CORNER WITH GARRY CHITTICK
It would seem to be current that the Corner should dissect the announced deal on our behalf of the TAB with Entain. I will brush over the deal but can't offer a lot more than …
Read More