The Corner with Garry Chittick
5 August 2022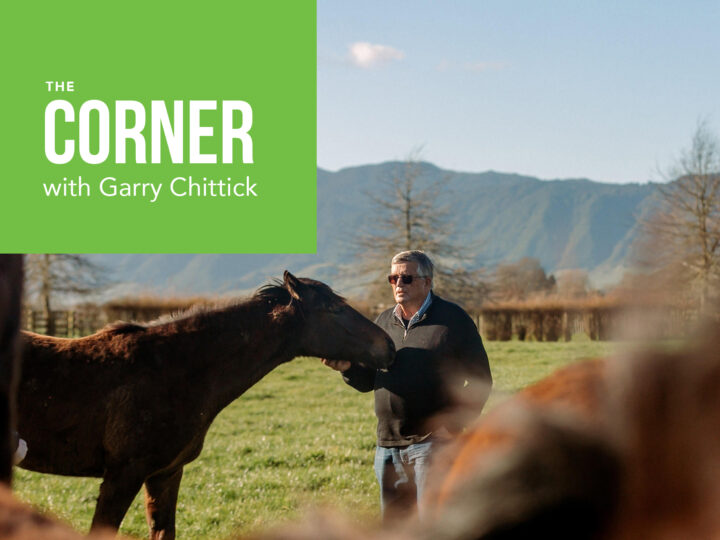 Well, another year of racing over. The excitement of a new season, new crops of age groups, you've got to be enthused – if not, why be involved?

Our involvement covers all aspects. We invest in stallions, we respect them as the the prime drivers of racing excellence. We breed and retain fillies to constantly replenish our herd, we sell 100 plus horses a year, our racing team, which we hope will produce the results needed, are spread around trainers who we believe suit our breed. For all that I cannot hand on heart pass on any secret formulas that will guarantee you success.

So, back to the opening line: If not enthused by the deeds of the horse, the common interest of many great people, the drive to share in the excitement of ownership, the anticipation of your annual foaling – return to the golf course.

We at Waikato have allowed our initial modest aspirations to gallop way beyond my dreams of nearly fifty years ago. The dream was to farm sheep and cattle and say five mares. Stallions were not of initial involvement, how we came to purchase Super Gray is a story of its own. Suffice to say, we as a family had a great deal to learn. I penned a small family book in 2009, some have suggested I should write again filling the gap of the last thirteen years. I am not, but suggested if I penned an honest appraisal of the mistakes made in the last sixty years it would be quite a read.

Generally in life, I tell my grandchildren, many setbacks will occur, it's the ability to overcome these moments with sufficient wins to stay ahead of the fight that will determine their satisfaction.

Nowhere are these ups and downs better illustrated than in our horse industry, character building they may be but it's the emotional involvement that makes it different to most ups and downs. If you have a couple of mares you have thought about their mating, waited eleven months then lose the foal; at that moment you feel not only about yourself but you feel for the mare. At that stage if the mare is at a commercial stud, the stud management will be blamed for the loss. Hardly fair but we understand. Before Mark's taking control of Waikato he would race to the phone to congratulate the owner of a new born foal, any losses he left it to me. That's no longer the procedure.

Our end of year resulted in receiving the Breeder of the Year Award for the ninth time. We received others but to us this award truly reflects our endeavours to breed the right horse. You can rest assured all the previous pitfalls illustrated here have stood in the way of achieving these results. Five Group 1 winners is one short of our best but, as before, these winners enhance a spread of the pedigrees of our broodmare band. Our long involvement may not have resulted in the most positive of commercial results, however if you want the years to pass quickly get into breeding.
Graeme Rogerson was here this week with a client. Graeme bred and sold Savabeel to Gerry Harvey as a foal at foot, we syndicated him 18 years ago. Graeme's genuine affection for the horse we see on his annual visits. This year is special, we intend to celebrate his 21st birthday, why not? He is part of the family, he looks fantastic. I said to Graeme how fast those 18 years have gone, his response: "I wish he had another 18 years ahead of him." Don't we all.

Happy breeding season.

Cheers,

Garry
Recent News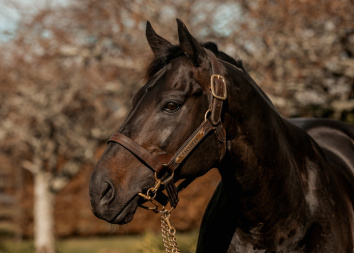 27 November 2023
Savabeel 3YO makes impressive debut
A well-related son of Champion Sire Savabeel made the perfect start to his career at Kilmore on Sunday afternoon. The Trent Busuttin and Natalie Young-trained Interlinked made his debut over 1450 metres in the hands …
Read More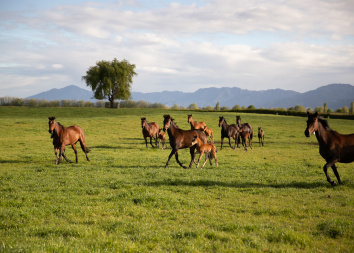 25 November 2023
Rudyard powers to Pukekohe victory
The Tony Pike-trained Rudyard produced a storming late finish at Pukekohe on Saturday afternoon to account for his Rating 65 rivals over 1600 metres. The son of Charm Spirit had finished an encouraging fourth when …
Read More