THE CORNER WITH GARRY CHITTICK
22 September 2023
Attempting to make sense of our Thoroughbred Sport in little more than two paragraphs is more often than not going to require a little plagiarism. After all, even though the eleven of you accept my opinions to be unwaveringly correct, I need to shore up my knowledge frequently, mainly as a result of age-induced amnesia.
So today, I confess to being attracted to the recent piece by Jamie Walter of Proven Bloodstock. Now I haven't told Jamie of my intent, and I doubt he will ever know, not being one of the eleven. Anyway, his views are not exclusive and frequently debated.
His subject, the expected early performances of our two-year-olds, whilst he doesn't directly say it shouldn't happen, he uses results based on information.
As you are aware, I have been around a long time, I have seen more than I am going to see, my initial involvement with horses was before the days of farm bikes, an acquaintance of my father retired a trotter which having only ridden push bikes in Lower Hutt became my transportation around the rolling country of Taranui, my first farm. Wexford Chief carrying stock saddle, and me, we learnt together how to muster both the modest numbers of sheep and cattle that I farmed. I sparred a number of fences to avoid the opening gates. We were an ungainly pair, a retired trotter, stock saddle and me!
I loved it, not sure he did, and we were not aspiring to collect any ribbons at the local shows. However, I had a cousin who was winning ribbons, encouraged by his father, who like so many, lived in their progeny's reflected glory. For all that the father, my uncle, loved and cared for their horses. With my equestrian skills confined to the farm, he could have left me to my own devices, but his concern for the horse, which outweighed his concern for me, meant he regularly would turn up, each time with a pearl of wisdom about the horse. Nutrition, feet, grooming, I couldn't get off the hook, but he drummed into me a horse could not be considered mature until the age of seven.
Now clearly, there are a number of seven-year-olds still racing, a handful, competitive on the flat but most over the jumps. Obviously, I am not advocating that we spend six years preparing them for the rigours of racing, but it does beg the question, is pre-Christmas trialling and racing an ideal start to the young athlete's future? We are encouraged to get them up and going, after all, the pre-Christmas stakes are juicy, but the early autumn races are enough to sacrifice a lot of our future prospects for the immediate gratification of not only stakes but the frenzied competition for a colts semen.
Like Proven, a Golden Slipper in the trophy cabinet would be acceptable, the prize money followed by the syndication would not only be part of history but encourage me to purchase increasingly expensive yearlings for the rest of my life, attempting to repeat the result.
We, at Waikato race predominantly fillies with a view of replenishing our broodmare band. You note we race very few two-year-olds. Obviously, fillies are not the lottery ticket a colt can be; also, there is little emphasis on two year old racing in NZ. We have the two Group One races and the fillies Matamata Breeders Stakes, these races we would be delighted to add to the trophy cabinet, we like our fillies to have a start prior to the winter so they are prepared for the spring racing. This may change if we were based in Australia, but that would require the upending of our broodmare band and, more importantly, our sire selection.

No one is right in this debate, unless you relate the outcome to the welfare of the horse. Prior to the emphasis on so-called Colonial breds then the aspiration was to aim your gelding through the classics onto the cups. Either way, it's exciting, as a commercial breeder, we are now confronted with a two-tiered market, you know, hook into an early maturing sort, if you want a cup runner pop across to Europe (buy a bumper).
It might surprise you to know there were only three colts that were successful at Group One level last year. I do have a small share in a colt who apparently is burdened by the two-stone impediment that without he may race for years. A partner was reluctant to go along with this change when shown the odds succumbed.
I started this corner with a seven-year-old gelding chasing sheep, I traversed the choices we are confronted with, in the end, it is, as always, the horse that matters, and regardless of our aspirations, we will not beat nature, we might stuff it up though.
Cheers
G
Recent News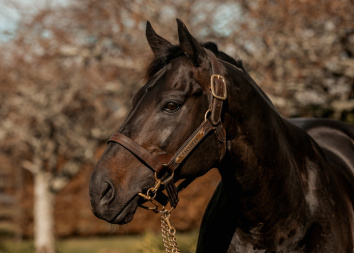 27 November 2023
Savabeel 3YO makes impressive debut
A well-related son of Champion Sire Savabeel made the perfect start to his career at Kilmore on Sunday afternoon. The Trent Busuttin and Natalie Young-trained Interlinked made his debut over 1450 metres in the hands …
Read More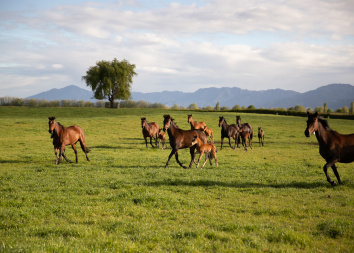 25 November 2023
Rudyard powers to Pukekohe victory
The Tony Pike-trained Rudyard produced a storming late finish at Pukekohe on Saturday afternoon to account for his Rating 65 rivals over 1600 metres. The son of Charm Spirit had finished an encouraging fourth when …
Read More